Welcome to St. Joseph Church!
New Directed Health Measure from Health Department
Dear St. Joseph Parish Family,

As you are aware, on August 24, 2021, Lincoln Lancaster County Health Department Director Pat Lopez signed Directed Health Measure 2021-23 implementing restrictions in Lancaster County. Along with the Diocese of Lincoln, St. Joseph Parish will comply with this DHM and require masks be worn by all those age two and above in indoor public settings, regardless of vaccination status. Please see the attached details set forth from the Diocese of Lincoln and Diocese Education Office.

Thank you for your understanding at this time.

The letter from the Diocese of Lincoln can be downloaded HERE.

The Diocese Education Office letter can be downloaded HERE.


---




A Meditation for the Presentation of the Blessed MotherFrom a sermon by St. Augustine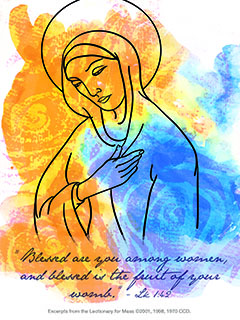 "Stretching out his hand over his disciples, the Lord Christ declared: Here are my mother and my brothers; anyone who does the will of my Father who sent me is my brother and my sister and my mother. I would urge you to ponder these words. Did the Virgin Mary, who believed by faith and conceived by faith, who was the chosen one from whom our Savior was born among men, who was created by Christ before Christ was created in her - did she not do the will of the Father? Indeed the blessed Mary certainly did the Father's will, and so it was for her a greater thing to have been Christ's disciple than to have been his mother, and she was more blessed in her discipleship than in her motherhood. Hers was the happiness of first bearing in her womb him whom she would obey as her master."

Read more of this sermon here: https://www.discerninghearts.com/catholic-podcasts/presentation-virgin-mary-st-augustine-office-readings/

Excerpts from the English translation of The Liturgy of the Hours (Four Volumes) © 1974, International Commission on English in the Liturgy Corporation. All rights reserved.