Welcome to St. Joseph Church!

We look forward to seeing you at Mass and have a few "know before you go" updates:
1. If you have any symptoms of COVID, please stay home and take good care of yourself. Thank you for understanding and we look forward to seeing you back soon!

2. When at church, we ask you to practice social distancing of at least six-feet between households and when this distance cannot be maintained, please wear a mask.

3. Overflow seating in Resurrection Hall is available at all Masses.

4. Normal Communion practices have resumed. There is no need to wait until the end of the line to receive on the tongue.

5. Bishop Conley has announced that Sunday obligation will be restored at Pentecost, the weekend of May 22-23. There are some exceptions to this obligation which can be found on the Diocesan website at https://bit.ly/3elXsK7.
We will continue to live stream Mass
at 9:00 am on Sundays.
See all live streams on Facebook
---
---


A Meditation for the Presentation of the Blessed MotherFrom a sermon by St. Augustine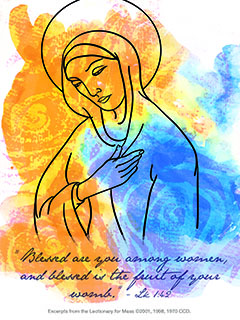 "Stretching out his hand over his disciples, the Lord Christ declared: Here are my mother and my brothers; anyone who does the will of my Father who sent me is my brother and my sister and my mother. I would urge you to ponder these words. Did the Virgin Mary, who believed by faith and conceived by faith, who was the chosen one from whom our Savior was born among men, who was created by Christ before Christ was created in her - did she not do the will of the Father? Indeed the blessed Mary certainly did the Father's will, and so it was for her a greater thing to have been Christ's disciple than to have been his mother, and she was more blessed in her discipleship than in her motherhood. Hers was the happiness of first bearing in her womb him whom she would obey as her master."

Read more of this sermon here: https://www.discerninghearts.com/catholic-podcasts/presentation-virgin-mary-st-augustine-office-readings/

Excerpts from the English translation of The Liturgy of the Hours (Four Volumes) © 1974, International Commission on English in the Liturgy Corporation. All rights reserved.